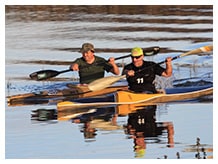 Activities on the De Zeekoe Farm
De Zeekoe offers a wide range of activities on the farm, that is why a 2 night or more stay is recommended to enjoy De Zeekoe as well as the surrounding area.
Wild meerkat tours – offers you the unique opportunity to see these animals that are part of the shy 5 in their natural environment.
Self guided hiking trails
Mountain Biking

Canoeing – on the Oliphant's river
Fishing – bring own equipment
Birding – 162 different bird species- The distinct call of the pair of fish eagles who reside here can be heard daily.
This area is also a 4×4 lover's dream destination.
Salt water swimming pool
Learn more about this working African farm with its modern equipment, ostriches, springbok, cattle, sheep and alfalfa fields..
Guests can also visit the private game reserve that is situated near De Zeekoe, where they can experience Africa in all her unspoilt splendour while walking freely amongst the African game.
Explore our scenic farm grounds and blue wonders of the unspoilt Karoo, vast horizons by foot.
Treat yourself to complete relaxation in our salt water swimming pool, before sitting down to exquisite fares of seasonal, organic yield from our own gardens.